You may wish to change the voice pitch of your recorded file or audio track depending on how you talk and the expressive way to make others understand. Don't worry, as you can change your voice while making records or videos, and that too without getting hassled. You can also easily change the voice in any stored and existing videos. But, how? Stay and read on as we provide you with the solution by introducing the easiest way to change voice pitch.
Part 1: How to change your voice pitch online
If you wish to get a hassle-free process while changing voice pitch, you can do it online via Online Pitch Shifter. This audio pitch editor supports all popular audio formats and edits the audio file without reformatting it. This pitch-changing software will be accessible online for free. It won't ask you to register or subscribe. Now check how you can easily change voice pitch using Online Pitch Shifter.
Step 1: Visit Online Pitch Shifter
Go to the official website of Online Pitch Shifter.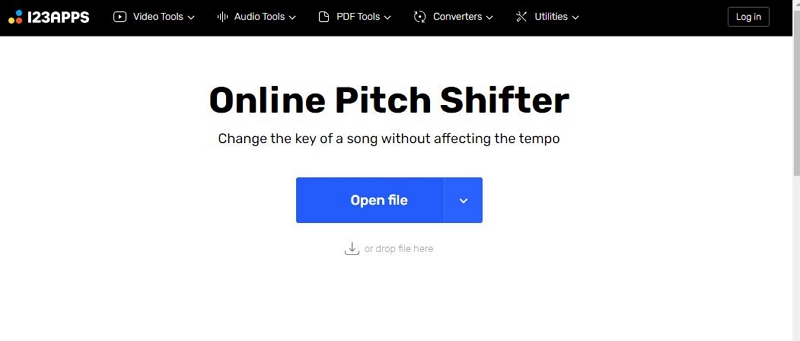 Step 2: Select audio file
Then click on the "Open File" or hit the option "drag file here" below it to drag the file. Choose the file/files by browsing from the computer.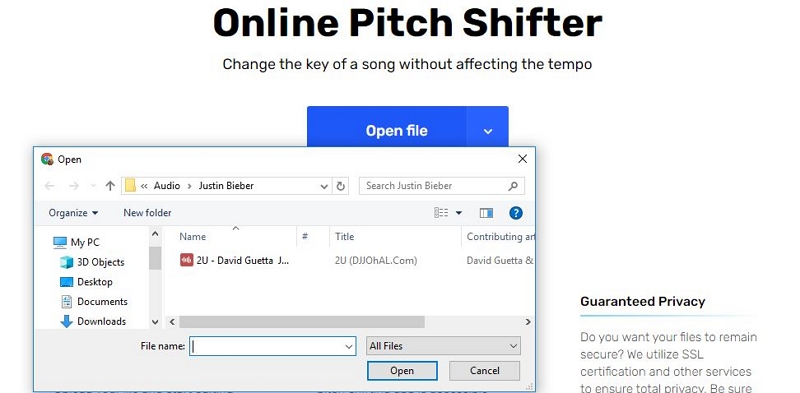 Step 3: Adjust pitch
Select the portion of the audio to fix and modify the voice pitch as per your desire. You can then hit "Save" and keep it in your storage. If you want to get a different audio file format, choose the final format before hitting the save option.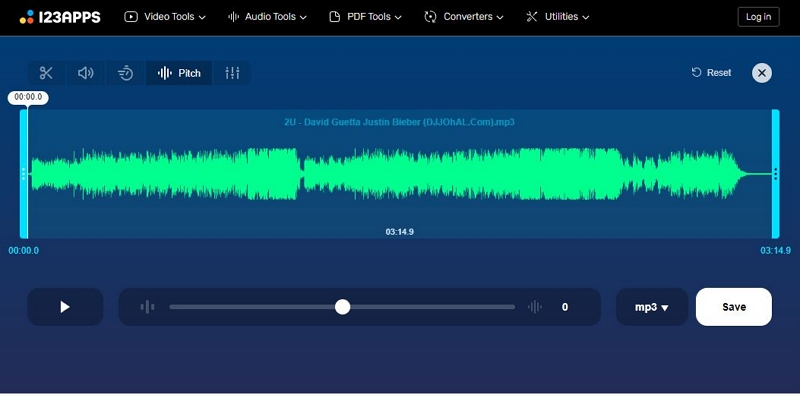 Part 2: How to change voice pitch with Audacity
Audacity is also practical when you want to change voice pitch. However, you may find changing the tone a bit complicated because of the lacking visibility of options on its main surface compared to Veeware Audio Editor. Check the mentioned steps guide to know how to change pitch via Audacity.
Step 1: Select audio file
Open the Audacity recording first and fix the portion you want to change the pitch. Select the part to edit.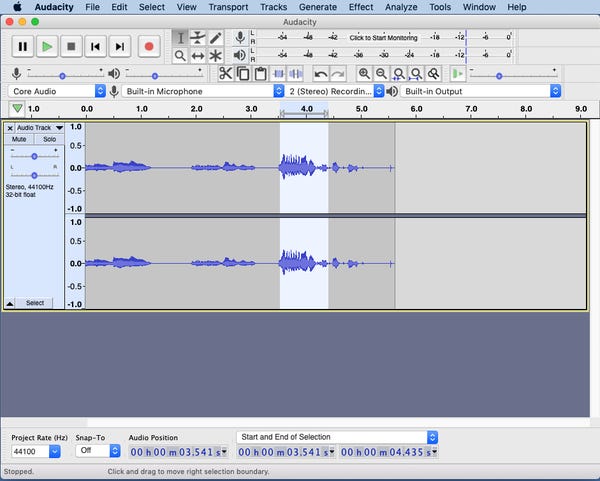 Step 2: Choose the options
At the top of the interface, tap on the "Effect" option. Then choose the "Change Pitch…" option. There you will find both options named "Change Speed" and "Change Tempo." The pitch will rise and go low in both cases. Open the "Change Pitch" menu. Steven John/Business Insider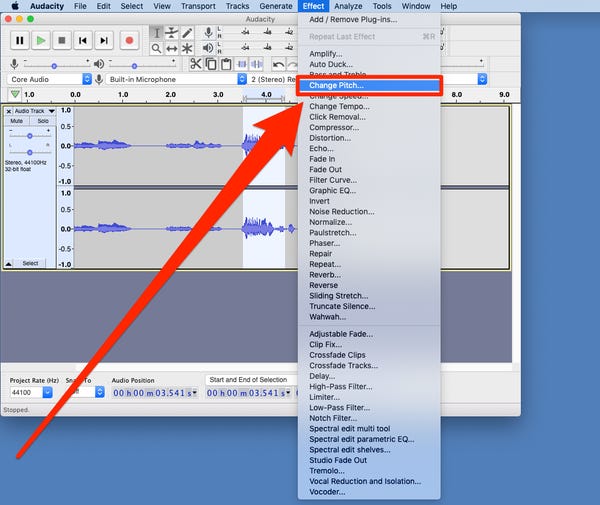 Step 3: Change pitch and save file easily
For getting a higher pitch or a lower pitch on your audio, raise the audio from the left in the popup window. Use the "From" and "To" options to choose your pitch change manually. After fixing the key, click "OK," and the software will process the audio.
Note: If you want to undo any change on Mac, press Command + Z and Ctrl + Z on a PC or try again.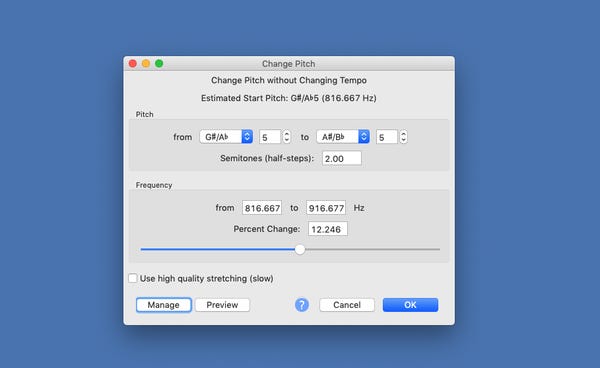 If you also want to edit your audio files, then we would recommend you Eassiy Audio Editor. Eassiy Audio Editor is the ultimate multimedia toolbox that can edit both audio and video files easily. By using this program, you will be able to convert, compress, and edit your audio and video files. Without losing quality, it can convert your audio and video files into any format. You can edit the audio with trim, cut, merge, split, etc. It can perfectly synchronize any picture and sound. Also, this powerful program can edit ID3 tags of your audio file. To download Eassiy Audio Converter, you have to visit their official website and download it for free on both Windows and MacOS.
Part 3: Some FAQs
1. What is a voice pitch changer?
Voice pitch changer is a great programming software or application available in Windows, Mac, iOS, and Android. It helps to adjust voice pitch to make the voice more suitable or how you want to modify its vocal part.
2. Why Use voice pitch changers?
Voice pitch changers allow users to change the vocal pitch and make it more suitable to listen to the same voice differently after using various effects. It also provides editing and changing the recorded file or video and saves and shares the voices. Voice changers offer easy-to-use features for beginners and professionals and are compatible with most systems, applications, and software.
3. Which voice changer will be the best recommendation?
Honestly, you will get a far better result if you try out Veeware Audio Editor for free. Though you can use it for free, you will get a rich and efficient set of functions to change the voice pitch and edit your audio track with more effects.
Conclusion
Finally, we are closing the discussion regarding the simplest way to change voice pitch. The best pick for you will be the ever-helpful online Audio Editor for free to offer you the best functions. You can also choose to purchase its premium version to get extra-ordinary features if you get satisfaction after trying it for free.