Most vocal remover for karaoke session tools on the internet simply reduces the vocal level, leaving some of the audible remnants of the original performance. Or affect the instrumental noise and degrade the quality during the process. But that is not how vocal removers work. Yet, they make bold claims of being the best and even charge money to remove vocals to make karaoke-worthy audio.
Of course, all of them are fake! A proper vocal remover for karaoke tools can effectively extract instrumental music and give you high-quality audio. For this reason, we listed the seven best vocal removers for karaoke tools that effectively remove instrumental music. Furthermore, we have also listed the step-by-step guide to removing vocals for karaoke using the best vocal remover in the market.
7 Best Vocal Remover For Karaoke You Should Try In 2023
After reviewing tons of vocal remover for karaoke apps on the internet, we have come up with the seven best tools to remove vocals and make karaoke-worthy audio files. That said, here are the seven best tools to remove vocal for Karaoke music:
1. Best Vocal Remover
We have to mention Audacity when it comes to voice isolation. Including separating vocals from instrumental tracks, Audacity is an open-source audio editor used for many purposes. This software can help you with basic audio editing needs such as copying, cutting, and pasting music, removing vocals and background noises, mixing music tracks, and more. It offers you a lot and also, it is free. The best thing about this vocal remover is that it provides you with hands-on control over how the final separate vocal will sound. With its straightforward interface, you can easily remove the vocals from the music and make them perfect for karaoke sessions.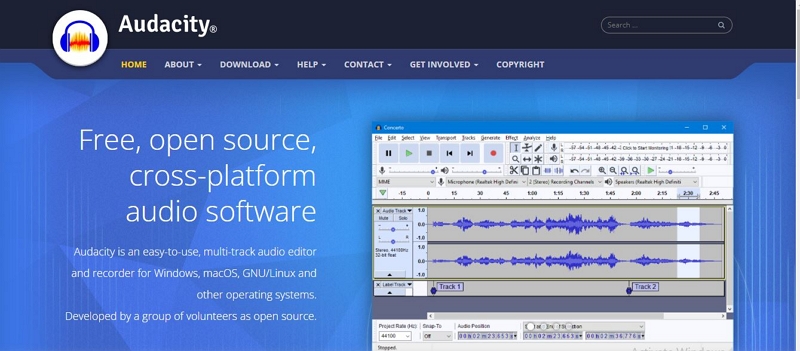 Key Features:
Multiple audio formats are supported including WAV, AIFF, MP3, and OGG.
Offers a number of built-in effects and plugins like equalization, noise reduction, amplification, etc. to help you in enhancing your audio files.
A wide range of audio editing features is offered including recording, editing, mixing, and mastering.
Even beginners will find this software easy to learn and use as it has a simple and intuitive interface.
Can be used virtually on any computer as it is a cross-platform software.
Pros:
Sound files can be edited and combined.
Helps you to remove vocals from the music files and make them worthy of karaoke sessions.
Have the ability to record live audio.
As it is an open-source program, anyone can access and modify the source code.
Cons:
For some users, the user interface of Audacity can be overwhelming.
Doesn't provide official customer support.
While working on large projects, it might crash sometimes.
2. Phonic Mind
An online tool made to remove vocals and make karaoke-worthy instrumental music, Phonic Mind uses the HiFi AI technology to separate vocals, drums, bass, and other instruments out of your songs. Not only can you remove the vocals for karaoke, but you can also manage the bass, drums, and other instrumental noise of your audio to ensure everything is the way you need. You can add your audio or export in one of the six formats, i.e., *.mp3, *.aac, *.wma, *.flac, *.wav, *.aiff. Plus, it allows you to upload audio files up to 100MB in size. And the best thing is Phonic Mind's user interface is simple and easy to handle, meaning even novices who haven't dealt with music editing tools can remove vocals effortlessly.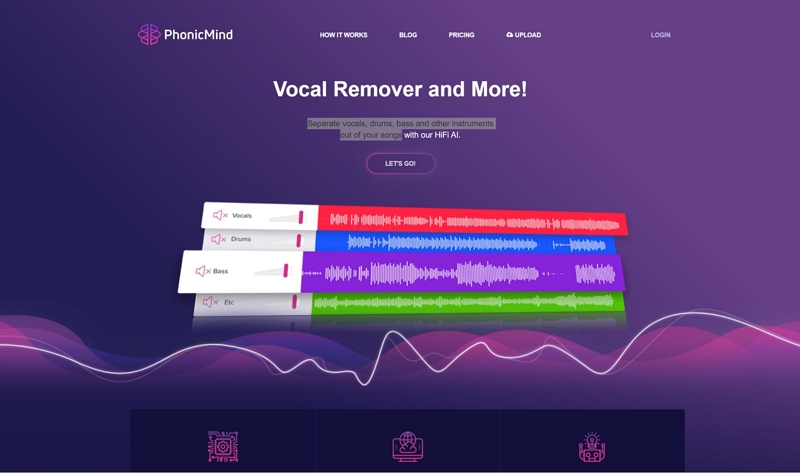 Key Features:
Uses HiFi AI and deep learning technology to extract high-quality instrumental music from the audio files.
Phonic Mind supports six different file formats, including *.mp3, *.aac, *.wma, *.flac, *.wav, *.aiff.
You can manage your audio's vocals, bass, drums, and other instrumental sounds and adjust individual apps sound levels.
Stem maker allows you to use the music in DJ software or hardware like Native Instruments.
Pros:
A straightforward layout allows you to separate the vocals from instrumental music within three steps.
The output instrumental track quality will not be affected and will remain similar to the original track.
Phonic Mind is available for free; no fees whatsoever.
The options to adjust aspects of the audio like drums and bass gives you greater control over your audio file.
Cons:
There is a max file size limit (100 MB), so forget the thought of editing long-form music files.
Being an online tool, you will have to waste your time uploading and downloading the audio files after editing them.
The processing is slow.
3. Wondershare Uniconvertor
Wondershare is well-appreciated by the tech-critics for its exceptional line of utilities for Windows, Mac, iPhone, and Android users. And Wondershare's Uniconverter is an example of why Wondershare receives such high praises. As the name indicated, Wondershare Uniconvertor is initially made for converting one format to another. In fact, it supports more than 1000+ formats for the same purpose. Nevertheless, it also includes the AI system that will do the heavy lifting and separate the vocals from the instrumental music, making them worthy of karaoke sessions. On top of that, like Audacity, Uniconvertor presents a clean and straightforward user interface that allows anyone to use the tool efficiently.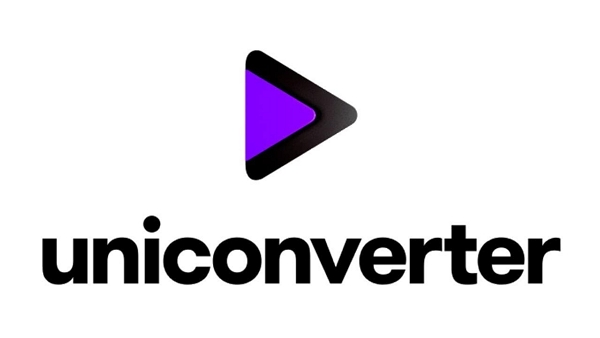 Key Features:
Trim, merge, speed up, slow down, shift pitch, or apply other changes and make your instrumental music sound like professionally-tuned tracks.
Uniconvertor uses one of the best AI systems to separate instrumental music from the vocals and gives you karaoke-worthy tracks.
Advanced options to increase or decrease the volume, remove background noises, and enhance the quality of the audio track.
One-click video compressor, Uniconvertor supports more than 1000+ audio and video file containers.
Pros:
The clean and straightforward user interface allows you to cut, merge, remove vocals, convert, compress, and apply other effects conveniently.
It includes a CD burner to burn M4A, FLAC, MP3, or any music file to the CD.
There is also a subtitle editor, which you can use to create a custom karaoke session and sing the parts you want.
Multi-lingual, 30-day money-back guarantee, and comes with 24/7 customer support.
Cons:
You will have to purchase the premium membership (available for Windows and Mac) to use advanced functions, including the option to remove vocals.
4. Audio Alter
Audio Alter allows anyone to remove vocals and make karaoke instrumental music within seconds, thanks to its self-explanatory user interface. Also, it does not change the audio quality, and instruments are clear and audible after removing the vocals, making it the perfect app for making karaoke music.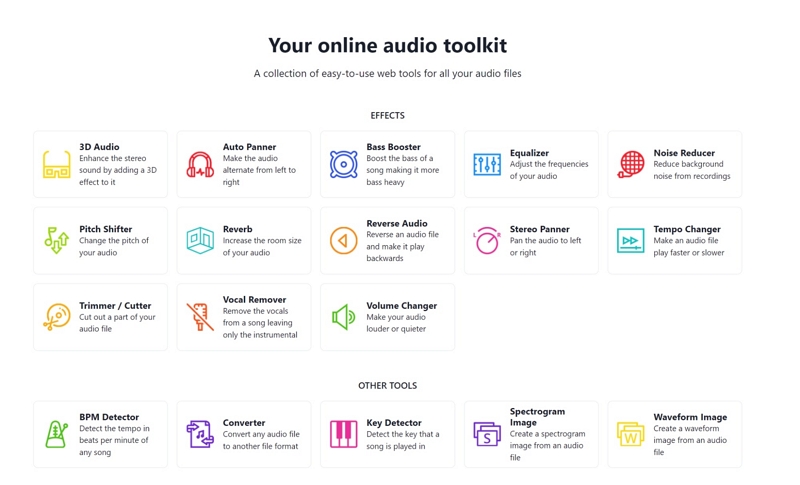 Moreover, Audio Alter's support for multiple formats is another plus. You can load songs in any format and remove vocals without having to convert them, which is a story of many vocal removers. Moreover, Audio Alter presents several other music editing tools to tune other aspects of the audio file alongside the vocal remover. Alongside that, Audio Alter presents a simple interface, making it perfect for the beginners.
Key Features:
It includes a dedicated function to remove voice and leave the instrumental music only.
Several audio effects allow you to make your instrumental music sound more professional.
Audio Alter presents all the basic music editing functions like cutting, merging, changing speed, pitch, and more.
Audio Alter's modern layout allows beginners and novices to work alike and edit their music like an expert.
Pros:
Audio Alter doesn't degrade the audio quality after removing the vocals.
The tool is free to use.
You can apply cool audio effects like reverb, 8D audio, 3D audio, and more.
You can convert a track from 440 Hz to 432 Hz.
Create a spectrogram view, detect the BPM, or create a waveform image of your audio files.
Cons:
It supports only four formats, i.e., MP3, WAV, FLAC, and OGG.
You cannot upload an audio file whose size exceeds 50MB.
You can apply one editing function at one time. You will have to re-upload the audio file if you want to use other music editing functions.
Slow processing makes the process of removing vocals tiresome.
5. AI Vocal Remover
AI Vocal Remover and its biggest competitor, the Vocal Remover.Org Karaoke makers, are pretty much similar in operation. However, the reason for not mentioning vocalremover.org is the AI Vocal Remover's high-quality output. Coming to the functionality of the AI Vocal Remover, it is a simple online service. That means you will not get the advanced features like Audacity and Uniconvertor offer. Moreover, it limits its support to MP3 and WAV formats only, meaning you can export and import your audio files only in those audio formats.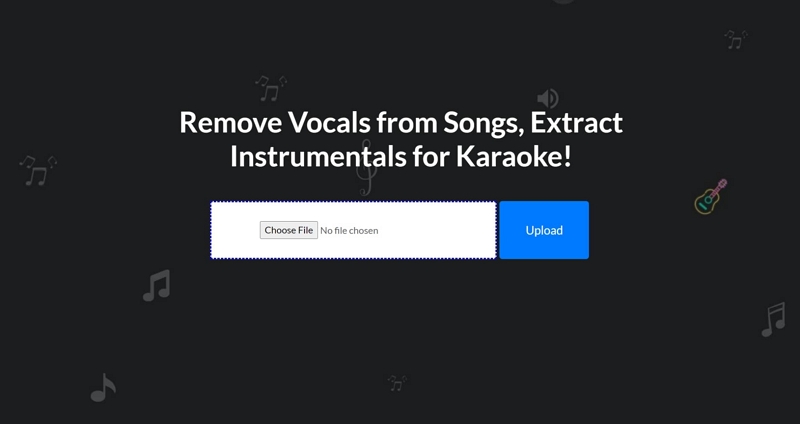 Key Features:
The processing technology of AI Vocal Remover is incredibly fast; you can add and process the songs within 15 seconds.
It uses deep learning analysis to train its AI system, allowing you to remove the voice effectively.
It includes a tool to remove instrumental music remover to eliminate noises and background noises and refine your audio.
Pros:
100% free tool. Plus, an ad-free website.
Far more effective than its competitor VocalRemover.org Karaoke maker, in generating high-quality output.
There is also an Android app for AI Vocal Remover (also free).
A really-simple interface that allows you to extract instrumental music within three easy steps.
Cons:
It supports only MP3 and WAV file extensions for import and export.
There are no advanced options like applying effects, trimming, merging, or more such music editing options.
It is not suitable for users who want to remove vocals from multiple audio files.
6. Vocal Extractor - Karaoke Maker
Vocal Extractor - Karaoke Maker is available on Apple's App Store and Google Play store, making it a viable option for people looking to remove vocals and make karaoke instrumental for free on Android and iOS devices. Vocal Extractor - Karaoke Maker is available for free and uses AI, Deep Learning technologies to separate the voice from the instrumental music, giving a high-quality output. Although it supports only three audio file formats (m4a, mp3, and wav), Audio Extractor - Karaoke Maker stores the files directly to cloud services like Google Drive, Dropbox, and iCloud. On top of all these, Voice Extractor - Karaoke Maker has a simple user interface that allows anyone to download the vocal remover for the Karaoke-session app on their mobile devices and remove vocals effectively.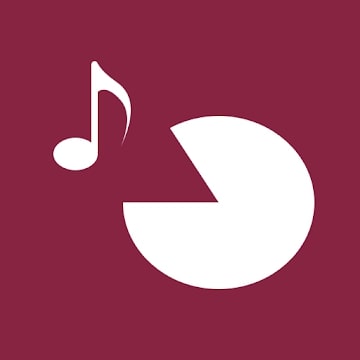 Key Features:
It uses AI systems and Deep Learning technologies to separate the voice from the instrumental music.
You can store the files directly to Google Drive, Dropbox, or iCloud.
When it comes to importing, Voice Extractor supports format 44.1KHz m4a, mp3 and wav.
For exports, you will receive 44.1KHz m4a and wav.
Pros:
Be it Android app or iOS app, you can use the Voice Extractor for free of cost.
Voice Extractor - Vocal Remover is very convenient to handle
Voice Extractor - Vocal Remover is available in two languages, English and Japanese.
Cons:
Although you can use the app for free, you will have to pay US$ 2.49 to save the downloads each time.
It supports only m4a, mp3, and wav file formats. You will only have two options for exports, i.e., WAV or M4A.
There are no advanced options like noise reductions.
7. Adobe Audition
Adobe's Audition is a well-known app in the audio editing industry. In fact, it is the industry-standard tool used to correct sounds in Hollywood movies. It includes anything and everything that an audiophile needs to take their music to the next level. And out of the tons of options it presents, Adobe Audition also includes an option to remove vocals, effective and high-quality. Being a professional tool it is not free. Moreover, Adobe charges you three times the membership prices than other audio editor. Nevertheless, suppose you are a professional and do not mind a learning curve before being able to remove vocals for making karaoke-worthy music. In that case, Adobe Audition is the tool for removing vocals for you.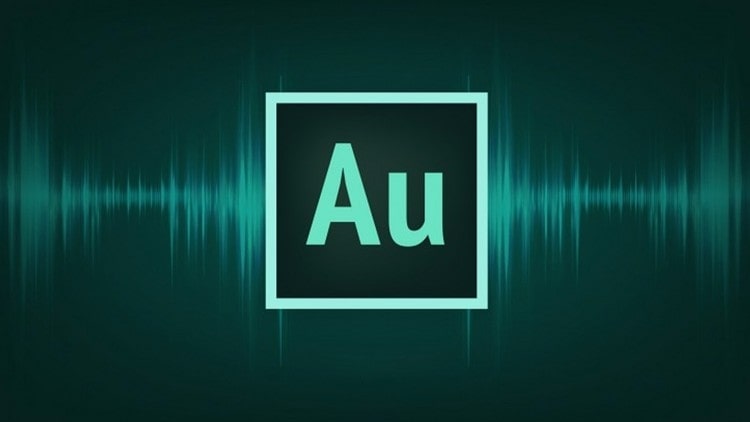 Key Features:
Advanced audio recording and editing features like auto-ducking tool and multitrack supports
You can use more than 50 audio effects to make your music sound like a professional-tuned audio clip
You can remove beeps, hisses, and background noise from your audio clip
Master your instrumental music by enhancing the sound, increasing or decreasing volume, and more.
Pros:
Use the spectral or waveform display and manage every aspect of your song
The multi-track makes it simple to work on two aspects or two audio files at once
Add third-party plug-ins and increase the functionality of Adobe Audition
Get your hands on sophisticated tools like Time Selection, Marquee Selection, and Lasso Selection tools
Cons:
You will have to pay US$ 19.99 per month to use features like vocal remover.
There is a learning curve; don't think that you can download the app and start creating professionally-sounding clips.
Not suitable for users who are looking for basic music editing tasks like removing vocals from audio clips.
FAQs
What is the best vocal remover for Karaoke?
Without a doubt, Audacity is the best tool when it comes to removing vocals for extracting karaoke-worthy instrumental music. Aside from the vocal remover, it also includes other music editing functions to make your music sound the way you want.
How do vocal removers for Karaoke work?
Vocal remover subtracts one channel from the other, i.e., reverses one channel's polarity and combines with another channel to cancel it. Or at least, that's how the best vocal removers work. There are some vocal removers for karaoke using OOPS (Out of Phase Stereo technology), which are not effective.
How to remove vocals and make karaoke instrumental for free?
You can use AI Vocal Remover and Audio Alter tools to remove vocals and make karaoke instrumental for free.
Conclusion
Our list is short compared to the other lists on the internet. And for good reasons: we don't want to confuse the users with tons of tools. Plus, we don't just name any tool that claims to be a vocal remover for Karaoke. Instead, we really review the product first hand and recommend you only when it passes our test. And all the vocals, as mentioned above, removers for Karaoke tools have passed our review criteria (or at least gave results better than other tools). All in all, if you want to get the best vocal remover for karaoke sessions, Audacity is the software you need.