Karaoke, making a cover, or listening to the music in its pure form, there are tons of reasons why you might be looking for an MP3 vocal remover. For this reason, we have spent hours and reviewed tons of music vocal removers to rule out the best audio vocal remover from the worst. This list presents the five best MP3 vocal remover tools that allow you to extract clean instrumental music and eliminate the vocals without staining the audio quality. You will find paid and free MP3 vocal remover tools in the list. Additionally, you will find both online and offline (for Windows and Mac) audio editors in the list.
What Are The Most Reliable MP3 Vocal Removers In 2023?
Before moving forward, you must realize that MP3 is not the best format to remove vocals from audio clips. MP3 encodes the MP3 audio filesin two channels separately (independent of the other channel). And this is opposite to how vocal remover software works to remove vocals effectively and ensure the use of other formats like AIFF and WAV. Of course, we have mentioned the tools that allow you to convert first from MP3, edit the song in another format, and download the output in MP3.
1. Voxbox
iMyFone Voxbox is a well-known vocal remover software that helps you to separate audio from instrumental tracks. You can easily remove vocals from a music file without losing the original quality. Also, it supports record, video conversion, text-to-speech, and speech-to-text. This software provides you with a very straightforward interface to use and even beginners can use it for their work purposes. You can use this tool without worrying about safety as it guarantees the privacy of the user.
Key Features:
Provides 5-in-1 functions of vocal remover, video conversion, video recording, etc.
The tempo of removing vocals from a song is speedy.
Multiple formats including MP3, OGG, WAV, and others are supported.
Able to edit the tune separated from a song.
Pros:
This software doesn't show you ads.
Safe and reliable tool for you.
The privacy of users is guaranteed by this tool.
A user-friendly interface is provided.
Cons:
Voxbox can be used only on Windows PC.
2. AI Vocal Remover
AI Vocal Remover is a simple online tool made to remove the vocals from an audio file. The user interface is simple and allows both beginners and experts to work alike using the platform. AI Vocal Remover is free to utilize; unlike Eassiy Audio Editor, it does not leave any watermarks on the audio files. Moreover, AI Vocal Remover does not affect the audio quality and delivers high-quality output. The only problem is that it supports MP3 and WAV file formats.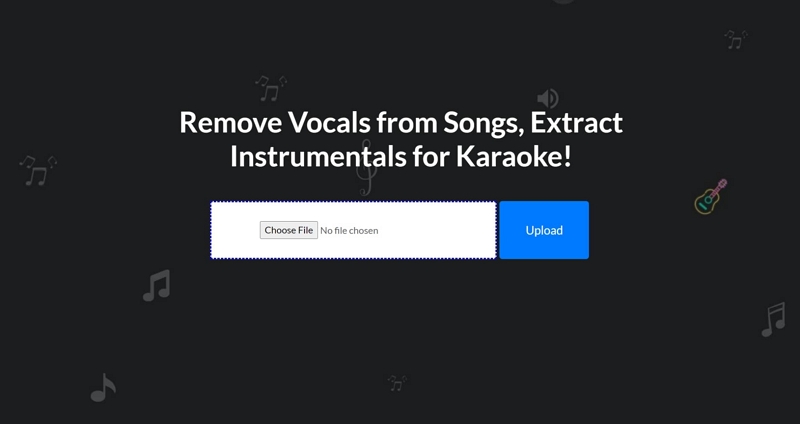 Key Features:
AI Vocal Remover processes the audio with high speed. You can remove vocals within 15 seconds.
It uses AI technology to separate instrumental music from vocals
Using the AI Vocal Remover tool, you can also eliminate background noises and other instrumental music.
Pros:
AI Vocal Remover is free to utilize
You can remove vocals from any number of files
There is also a dedicated app on Google Play Store.
Cons:
Limits the supports to WAV and MP3 file formats only
You will not find any advanced music editing options
3. LALAL.AI
LALAL.AI is a premium vocal and music remover tool that allows you to remove vocal voices online. Although everything about LALAL.AI is exceptional, it charges hefty prices for removing vocals from audio files. With the free version, you can remove MP3 audio filesup to 10 minutes in length (not exceeding 50MB), and the only formats supported are MP3, OGG, and WAV. On the other hand, the premium version charges you US$ 30 and allows you to edit MP3 audio filesfor up to 300 minutes (not exceeding 2GB), and gives you the options to upload in any file formats like MP3, OGG, WAV, FLAC, AVI, MP4, MKV, AIFF, AAC.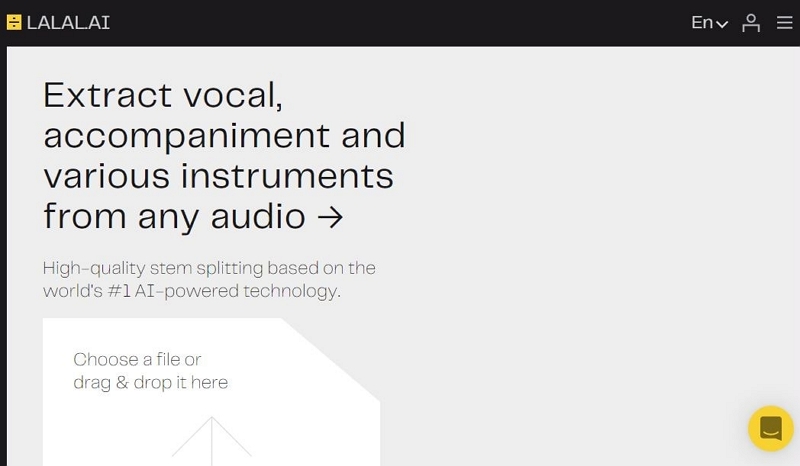 Key Features:
One of the best premium music remover vocal-only tool on the internet
You can upload MP3, OGG, WAV, FLAC, AVI, MP4, MKV, AIFF, or any other file format.
Fast Processing Queue allows you to add more than one audio file at once and edit them simultaneously.
Pros:
Dedicated support manager and tech team to help you out
AWS instance integration using Amazon Machine Image
You can use LALAL.AI as an integration on other music editing software
Cons:
You can only edit MP3 audio filesup to 10 minutes (not exceeding 50 MB) for free
The free version supports only three file formats MP3, OGG, and WAV
Costly tool compared to Eassiy Audio Editor
4. MazMazika Vocal Remover
MazMazika is an exceptional online tool that allows you to add songs directly from YouTube, Soundcloud, or local storage and remove vocals with ease. You can manage up to five different stems like drums, bass, vocals, piano, and other sounds on your audio and really control every aspect the way you prefer. Moreover, MazMazika also includes other tools like Chords builder, Karaoke player (online), virtual piano, and more than can be helpful if you are an audiophile. All in all, MazMazika, being free, will not disappoint you, and you can remove your voice quickly and effectively.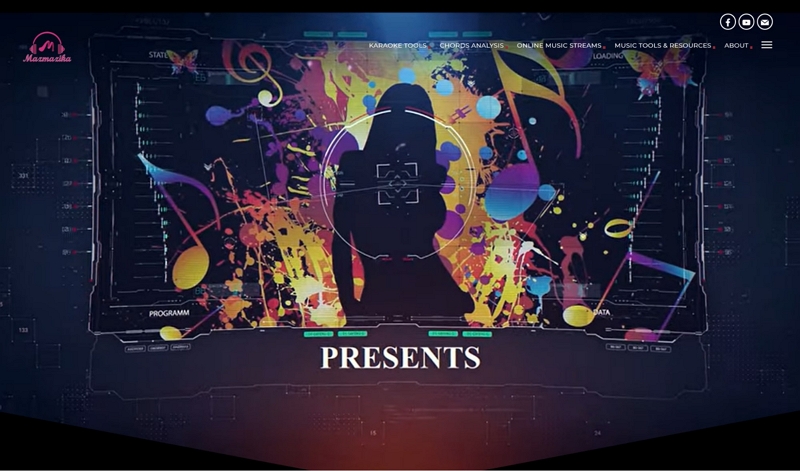 Key Features:
MazMazika allows you to work on five different stems like drums, bass, vocals, piano, and other sounds
Upload songs directly from YouTube, SoundCloud, or local storage.
It includes Chord Analyzer to learn about the chords instantly
Virtual Piano online allows you to create music
Pros:
MazMazika is free to use
You can learn about other music resources from its official page
You can upload songs directly from YouTube (it will convert them to audio automatically).
Karaoke player, if you want to host karaoke nights using the instrumental music you extracted
Cons:
You can upload songs only in WAV and MP3 file formats
Although it gives immense controls on the stem, the quality of the output file is not as effective compared to premium tools like Eassiy and Lalal.ai
5. Demixor Voice Remover
DeMixor is one of the most effective tools to remove vocals from any song. It uses AI-powered technology to separate the track from instrumental music quickly and effectively. Nevertheless, it is a premium tool. And that, too, a costly one. Yes, while you can use the tool to edit your audio as a vocal remover for free, it will only give you a sample of 15 seconds. And you will have to pay US$ 1.99/per song to remove the audio from the entire audio clip. Overall, if you do not mind spending money per song, then Demixor is an excellent tool. But a cost-effective solution is Eassiy Audio Editor.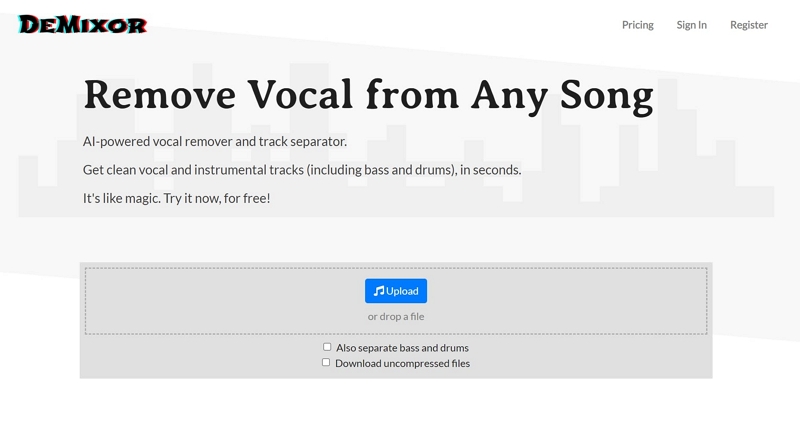 Key Features:
DeMixor uses Artificial Intelligence (AI) to separate vocal frequencies from an audio file
In seconds, get clean vocal and instrumental tracks (including bass and drums).
You can save the edited audio file on its cloud service and download it anytime within two years.
Pros:
You can upload songs in any audio file format.
The website's layout is simple enough to allow anyone to work on their audio like a professional.
You can manage the output file's bit rate, sample rate, and other aspects.
Cons:
You will have to pay per song to remove vocals from audio files.
The free version just gives you the sample of 15 seconds
Costly compared to other cost-effective solutions like Eassiy Audio Editor.
Bonus: Eassiy Audio Editor
Besides vocal removal, you might want to edit your audio files also. To do so, Eassiy Audio Editor is one of the software that can help you with editing. Though it might not help you with vocal removal, it can offer you various advanced features to edit your audio file such as adding effects, cropping, trimming, merging, tempo, etc. Also, you can convert your MP3 files into various other formats and compress them into smaller sizes. Additionally, this tool can also help you with video editing, converting, and compressing. To use this all-in-one toolbox, go to their website and download it for free on both MacOS and Windows.
Key Features:
Can help you to compress audio files as per your demand.
Doesn't cause quality loss while converting audio to any other format.
Supports converting audio to video with images.
Offers 1000+ video and audio formats such as MP3, MP4, M4A, WAV, WMV, FLAC, OGG, ACC, MOV, MKV, and many more.
Helps you to edit the ID3 tags of audio files.
Pros:
Offers an easy-to-use and efficient user interface so that newbies can also use this program.
Ensures the file quality and provides 100% safety.
The free version of Eassiy Audio Editor is available for both Windows and MacOS.
You can save time by batch-converting multiple audio/video files.
Cons:
The free version of Eassiy Audio Editor has limitations compared to the paid version.
Conclusion
As promised, this guide informs you about the five best MP3 vocal remover software. You can use any of them depending on your needs. Of course, some of the tools in the list are free but do not deliver optimum high-quality output. But we have included it to satiate the needs of users looking for a free music vocal remover tool. Moreover, we have included three premium tools, i.e., Eassiy Audio Editor (free version available), LALAL.Ai, and DeMixor. Without a doubt, Eassiy Audio Editor stands out from others when it comes to prices and features. So, do not hesitate and download the Eassiy Audio Editor to remove vocals from MP3 audio files effectively.