Merging audio files basically means combining multiple audio files into a single audio file. If you want to merge two or more audio files, you must play them one by one without any break off. Again, if you want to remove unwanted noises from your audio track, you can delete them and merge the audio file with other tracks together. In this generation, merging audio files has become a common word among us for different work-related purposes. A huge number of audio merging software's are available around us. But many of us don't know which software will be the suitable one and how to work with it. In this article, you will get to know about some online/offline audio mergers and how to merge 2 audio files easily and fast.
Part 1: Easiest Way to Merge 2 Audio Files on Windows: Eassiy Audio Editor
Eassiy Audio Editor is one of the most powerful audio editor tools for MacOS and Windows that is capable of merging numerous MP3 files into just a single file. There is definitely no need to seek assistance from a third-party software as this amazing software can be a one-stop solution to a bunch of media file issues. You can easily merge, split, cut, and trim your audio files by using this tool. To make your audio files customizable, this tool provides you with advanced editing features like tempo, adding effects, removing background noise, voice-over, adjusting pitch, fade in and fade out, etc. Besides audio editing, you can also edit video files with these editing features. This program supports conversion and compression with high quality. You will be able to convert audio/video files into various other formats and share them on social sites like YouTube, Facebook, Instagram, etc.
Key Features:
Audio files can be merged into one easily without losing quality.
Provides various editing functions like splitting, trimming, cutting, changing bitrate, changing the tempo, etc.
Supports 1000+ formats to help you with audio and video conversion.
Allows you to edit your audio and video files with advanced editing features including adding effects, removing background noise, adjusting pitch, fade in and fade out, tempo, etc.
Able to convert audio to video with different kinds of pictures.
Steps to merge 2 audio files on Windows
Step 1: Install and launch Eassiy Audio Editor on your desktop. Select "Video Merger" to open your audio/video merger by tapping "Toolbox" on your main menu.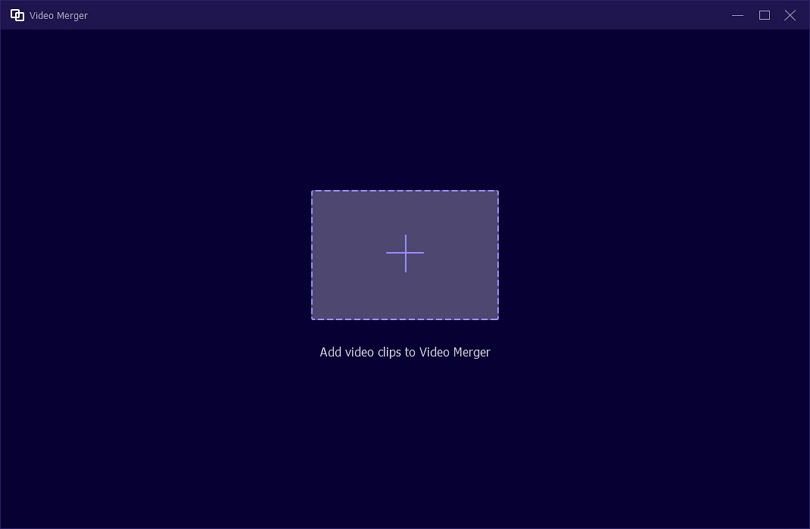 Step 2: To add audio, click "+" or drag and drop audio files one by one on the interface. You will be able to add as many audio clips as possible to the Merge. Before the merge, you can make changes to your audio files such as edit, trim, ahead/behind, forward, etc.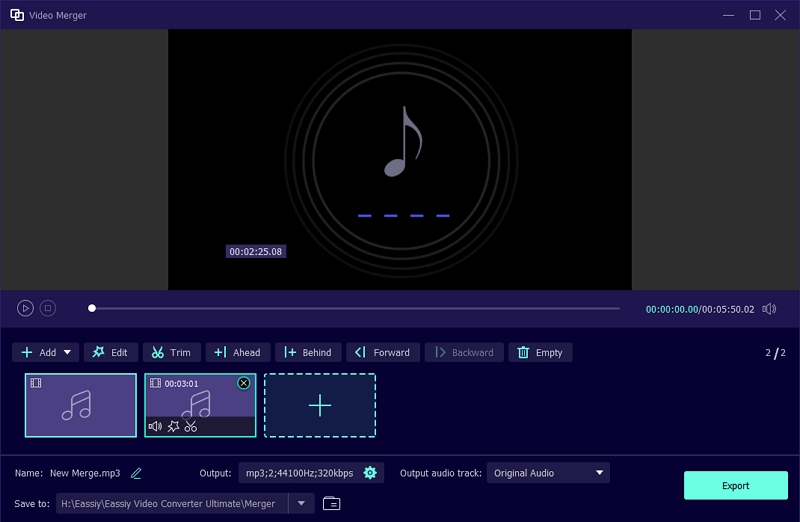 Step 3: Adjust the audio setting now before exporting the file. Select an audio format you want to save.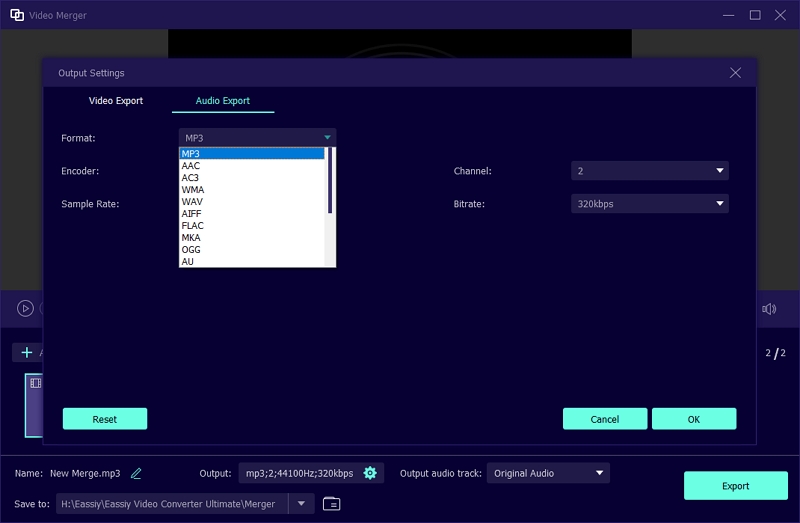 Step 4: To export your merged video, tap on the "Export" button. You have to wait until "Export" is complete. On your screen, a notification will appear after the process is done. Tap "OK" or "Merge Again".
Part 2: How to Merge 2 Audio Files on Mac
A great way to merge 2 audio files on Mac is by using iTunes. iTunes is a software that acts like both a media player and a media library. This software was invented by Apple for their users to merge audio files easily. It has a huge number of popular songs, movies, TV shows and podcasts to purchase and download. It is also used as an audio merger to merge audio files.
Steps to Merge 2 Audio Files on Mac:
Step 1: Launch "iTunes" on you device.
Step 2: Choose the files you need to merge. (Keyboard shortcut Ctrl + Shift and click on your favored songs)
Step 3: Click on the right hand button on each song. Then you need to choose "Get Info" option from the dropdown list.
Step 4: Choose the "Options" tab.
Step 5: Check Part of a compilation and Gapless album boxes. Finally click on the "OK" button to proceed.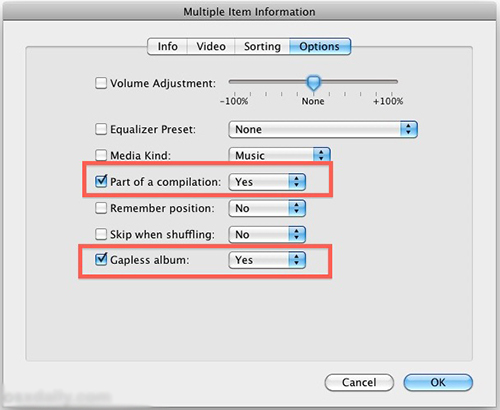 Interestingly, iTunes also allows you combining music files importing from CD:
Step 1: Place a CD and open iTunes on your device.
Step 2: Choose all the audio files you want to be combined or click "Edit" in the browser and select all.
Step 3: Select "Join CD Tracks" and click "Import CD" to combine selected files into one single file.
Part 3: How to Merge 2 MP3 Files Online
Many people want to learn how to merge 2 audio files online without any problem. So we introduce you with Audio Joiner, a simple way to merge 2 MP3 files online. Audio joiner is an online based audio merging tool which is totally free and easy to use with simple interface. This tool supports more than 300 audio formats and automatically convert them to MP3. It also supports crossfading and doesn't need any external software to combine multiple audio tracks at once.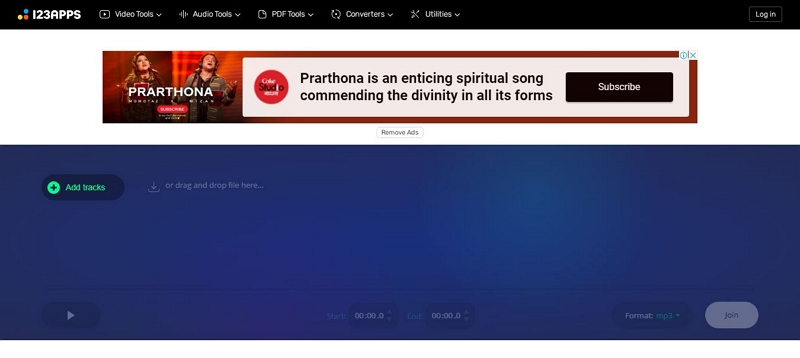 Steps to Merge 2 MP3 Files Online:
Step 1: Open a tab in your main browser and search for "Audio Joiner" in the search button.
Step 2: If you are on the site, click on "Add tracks" to add audio tracks. Then select the files from your PC and it will uploaded on the site.
Step 3: You will find the files on your device screen after they are uploaded. If you need to change the sequences or order, take the cursor over a track and click on the down or top arrow icon. You can also choose a start and end time for your files. In this way, they will start and end at your selected time. Use the options of your screen to do it.
Step 4: Then select an output format from the "Format" dropdown menu and click "Join".
Step 5: Click on "Download" to download the merged file. You can also upload it on your Dropbox or Google Drive account directly.
Now you can play the downloaded file on any music player.
Part 4: How to Merge 2 Audio Files Offline
If you want to merge 2 audio files offline, then you can use Audacity as it's a very helpful offline tool for audio editing. Audacity is a free, open source and cross-platform audio software to merge audio files. It is a multi-track audio editor and recorder for Windows, macOS and other operating systems. It lets you import, edit and combine audio files. You can use it to record audio using a microphone or mixer. It supports 16-bit, 24-bit and 32-bit and also supports LADSPA, LV2, Nyquist, VST and Audio Unit effect plug-ins. There are various disadvantages of audacity, including security problem and not so easy to use. So this is not the most ideal way to merge 2 audio files.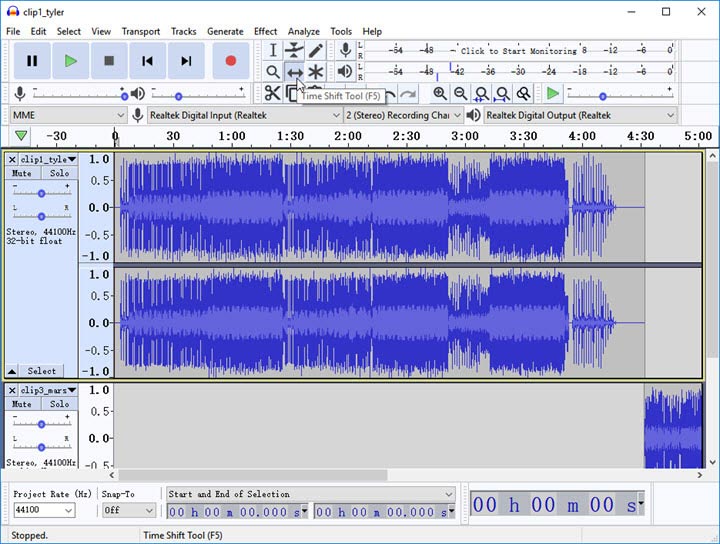 Steps to Merge 2 Audio Files Offline: 
Step 1. Launch "Audacity" your computer. If you don't have it, then install the latest version of Audacity.
Step 2. Import the files by clicking "File" and then "Import". Choose the audio files from the local file folder.
NB: There are some files that can't be input in Audacity and there is nothing you can do about it. If you see something like this, the click on "OK".
Step 3. Then click on "Time Shift Tool". You can also press shortcut keys F5 and drag the Time Shift Tool cursor to the place where you want your next clip to be played.
Step 4. Export the audio file by clicking File > Export > Choose "Export as WAV" in the dropdown list.
Conclusion
There are times when you want to add some audio as a background music for your videos, presentations or slideshows. In these type of moments, you need to merge two or more audio tracks into one audio file to add. You can merge audios both online and offline. There are many online-based and offline-based software's are available with limited features or not-limited features. In this article, we have suggested you some online/offline audio merging software's and described how to work with it. Among all of them, we would highly recommend the "Eassiy Audio Editor" for its fascinating features and easy to use with its simple interface for both beginners and professionals. This software acts like an all-in-one tool. We hope you will love using this program.