Basically, an audio file which may store different types of audio content including songs, audio books, podcasts etc. is called an M4A file. It saves in the MPEG-4 format and encodes with the Advanced Audio Coding (AAC) codec or the Apple Lossless Audio Codec (ALAC). There are many phase of life where you need to merge multiple M4A files to add background music in different presentations, slideshows or videos. Many of us wants to play music without any pause or wants to own music file. That's why it's necessary to merge M4A files. Again merging audios can help you to remove unnecessary background noises from the audio clip. But the main problem is most of us doesn't know how to merge M4A files easily because it is kind of hard to merge it without any experience. There are many online/offline M4A merging software available in the market. Some of them are rich with features and some of them has limitation over features. In this article, we are suggesting you some software and 5 best ways to merge M4A files on Windows/Mac/Mobile/Online.
Part 1: Fastest Way to Merge M4A Files on Windows: Eassiy Audio Editor
Eassiy Audio Editor proves to be the best software and M4A merging is no exception to this when it effortlessly comes to quality editing. You can easily merge audio files with any format at a quick speed without any quality loss as it supports popular audio formats including MP3, M4A, OGG, etc. There is no limitation on the number of audio files that can be added and the option to select the target format is also available. It is also a dedicated converter and compressor besides being an audio merger. Via its batch conversion features, many audio files can be converted or compressed at once. Also, you will be able to change audio settings such as bitrate, channel, etc. Everything is at your fingertips whether you need to change output formats or the other codecs. Additionally, it also supports an array of features such as video conversion, editing, video compression, and others.
Key Features:
Able to merge M4A files easily with no quality loss.
Supports numerous audio formats including M4A, MP3, OGG, etc.
Offers various editing features such as trimming, cropping, splitting, adding subtitles, and others to edit audio and video files.
Provides fast conversion speed compared to other programs.
Have the ability to convert audio to video with many pictures.
Steps to merge M4A files on Windows
Step 1: Download and install Eassiy Audio Editor on your system. Open the program and choose "Video Merger" to launch your video/audio merger by clicking on "Toolbox".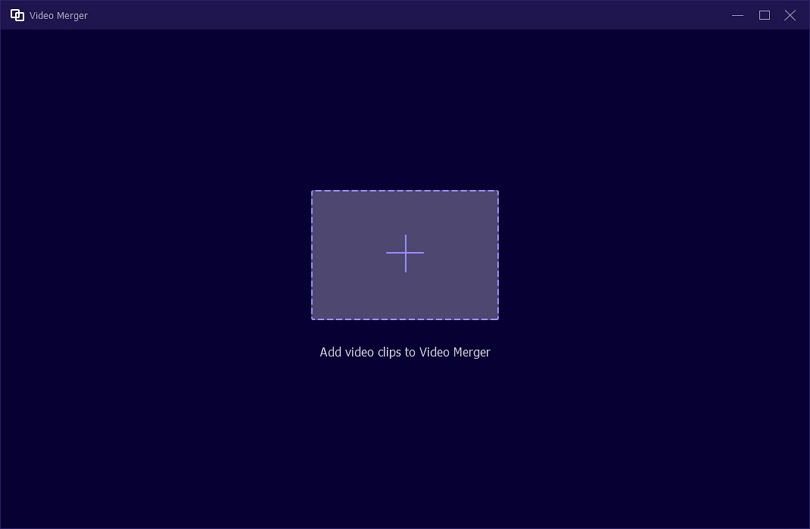 Step 2: You can add audio clips by tapping on "+" or directly dragging audios one by one on the window. There is no limitation over the number of clips that can be added to the Merge. Before you merge your files, you will be able to edit, trim, ahead/behind, forward, and others to them.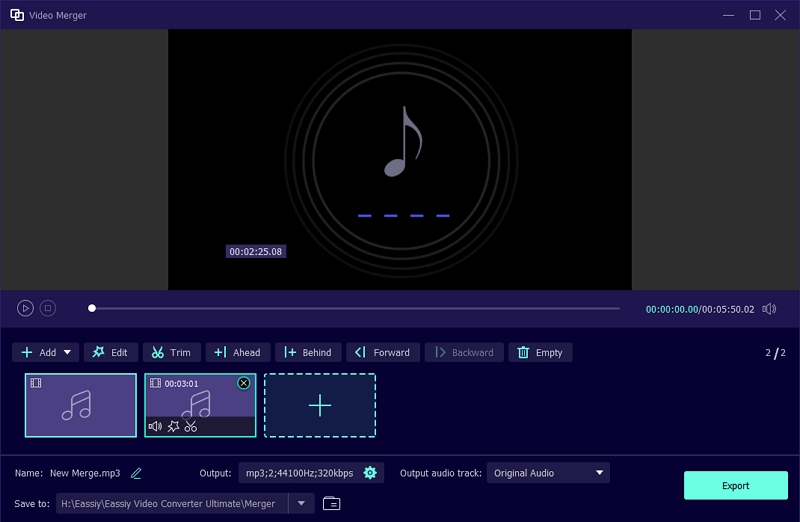 Step 3: You can adjust your audio setting now before exporting file. Export your merged file by clicking on "Export". After the merging process is completed, tap on the "OK" or "Merge Again" button.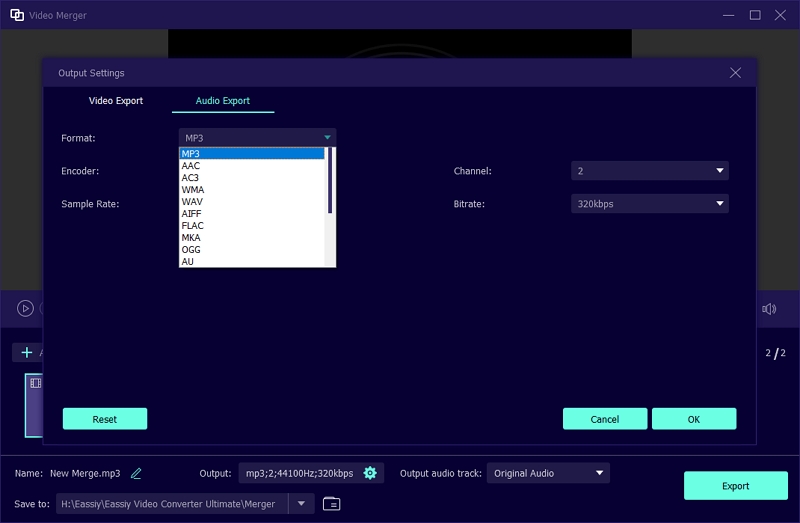 Part 2: How to Merge M4A Files on Mac
You need a good quality M4A merger/combiner to merge M4A files on Mac. Audacity is an easy to use, multi-track audio editor and recorder for Windows, macOS, GNU/Linux and other operating systems. It's free of cost and completely an open source software. This software is able to record live audio through a mixer or microphone, and it can also digitalize recordings from different file formats. It lets you import, edit and combine sound files. It also supports 16-bit, 24-bit and 32-bit audios.
Steps to Merge M4A Files on Mac:
Step 1: First, you need to input the M4A files on Audacity.
Step 2: Then choose "Tracks" from the toolbar. After that, click on "Align Tracks" and from there select the "Align End to End".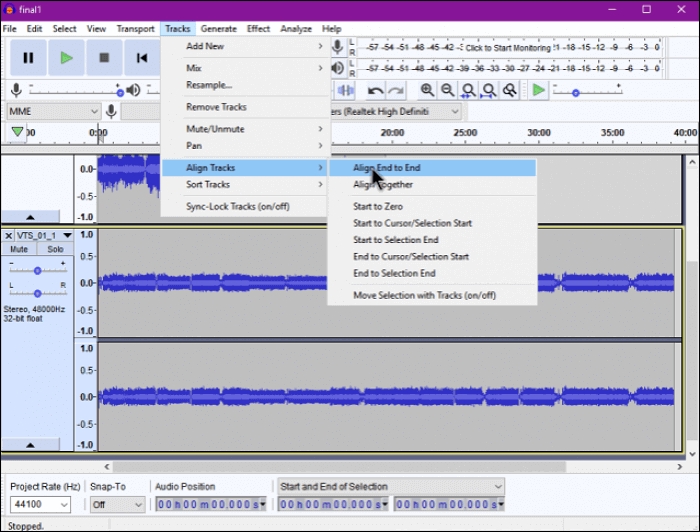 Step 3: Lastly, click on "File" and "Export". Choose "Export as M4A" to export the merged file as M4A file.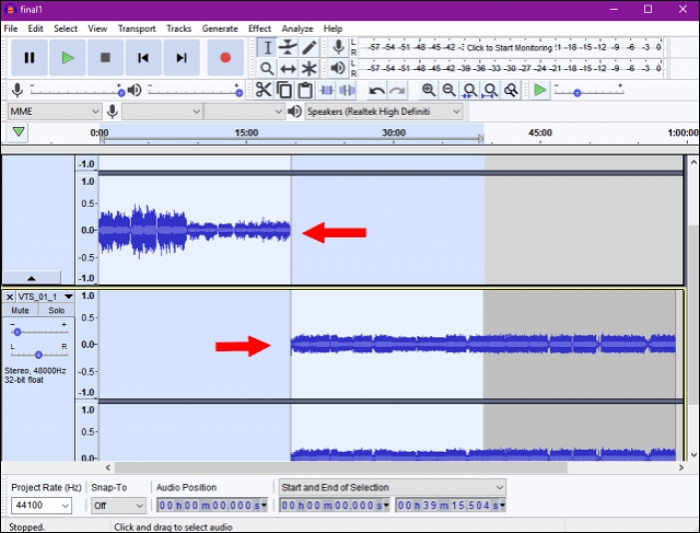 Part 3: How to Merge M4A Files on iPhone
A great way to merge/combine M4A files on iPhone is by using Hokusai Audio Editor. Hokusai is a multi-track audio editor for iPhone, iPad or iPod touch. It has a beautiful complication free interface. Hokusai is streamlined to give you a clean, clear view of your tracks. It comes free with a set of useful tools such as fade in/out, normalize volume levels, basic synthesis and reverse time. This app allows you edit a number of audio files at a time, mix those audios together and export to M4A format. Then you can save those in your computer, send them to other apps on your device or upload to different cloud services.
Steps to Merge M4A/Audio Files on iPhone:
Step 1: First, you have to install "Hokusai Audio Editor" and launch it. Then click on "Import" to input your audios from the Files app to the software.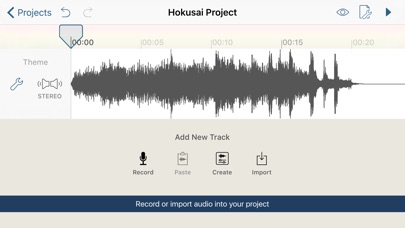 N.B: This app doesn't support importing a lot of files, so you need to choose them one by one.
Step 2: Now, play all the uploaded audio files and if you want change something, cut it before merging.
Step 3: Finally after making the changes, you need to click on the spanner icon from the upper right corner of the window. Then then choose "Share Audio" option from the dropdown menu.
This is how you can merge M4A/Audio files on iPhone.
Part 4: How to Merge M4A Files on Android
Merging M4A files on Android is an easy task when you have online audio mergers such as Clideo. Clideo is a free and open source online based audio merger. It lets you add multiple audio files at once. In this software, you can change the order, add crossfade and then merge them into one. It is an all in one tool that you can easily use.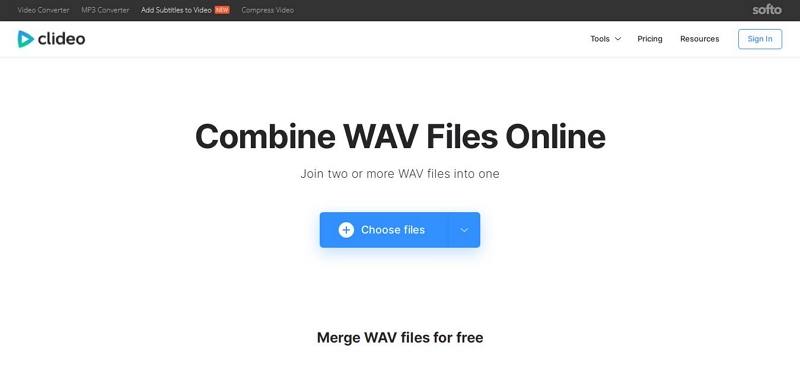 Steps to Merge M4A/Audio Files on Android:
Step 1: First you need to visit Clideo website on your Android device from a browser. Then upload your M4A files using the "Choose files" button.
Step 2: Next you need to arrange the files according to your preferred sequence, rename the file and select an output format.
Step 3: Finally merge the audio files by clicking on the main button. Wait till the merging process is complete, then download the file in your device.
Part 5: How to Merge M4A Files Online: Audio Joiner
To merge M4A files online, you can use Audio Joiner as a standard tool. Audio joiner is a free online app that lets you join multiple audio tracks into one. It supports crossfading and more than 300 audio file format. It doesn't need any external software. You can combine files without any privacy concern because all uploaded files will be deleted after you complete your work.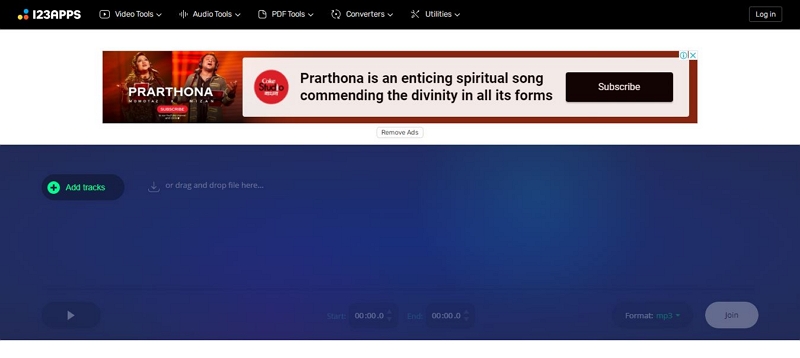 Steps to Merge M4A/Audio Files Online:
Step 1: First you need to visit the Audio Joiner website from your computer browser.
Step 2: Then you need to upload the M4A files by clicking on the "Add Track" button.
Step 3: You'll find all the uploaded files on the program interface. Now you can choose the position or sequence of the files, set the final output format and set the starting and ending time.
Step 4: Finally, click on the "Join" button and wait till the merging process is complete. Then download the merged file to your computer.
Conclusion
Audio merging is a common word among us because we need to merge audio tracks for various reasons. There are a number of people who don't know how to merge M4A files easily. This article is for them. After reading this article, you can easily merge M4A/Audio files easily. In this article, we suggested you some audio mergers and how to merge M4A/Audio files on Windows/Mac/Mobile/Online. Among all of them, we would highly recommend you to use Eassiy Audio Editor. It is one of the best audio joiner with easy to use interface and rich features. You'll definitely love the tool when you start using it personally.