Noise is an inevitability when recording in an untreated space or with budget equipment. However, there is software that can remove buzz from audio regardless of whether you were successful in removing buzzing from the mic or not. Scroll down to discover the five best software to remove buzz from the audio on Mac and Windows. But first, let's understand what buzz is and is buzz caused.
Part 1: What Is Buzz In Audio?
Well, in technical terms, Buzz is a superposition of the harmonics of the 60Hz (like 120Hz, 180Hz, etc) mains AC frequency on the audio signal. In simple terms, it is caused because of bad wiring, defective equipment, or just a noisy electronic environment. Here are the three prominent reasons why buzz is caused:
Interchassis currents result from the stray connection in the power supply. The recording instruments might not be adequately connected. Thus, causing the superposition of the harmonics.
Ground loops, i.e., the difference between the voltage between the interconnected instruments.
And the prominent one is the electromagnetic coupling, which is the result of poor AC and signal connections.
Now that you understand what buzz is. And the reasons for it to be visible in the audio signals. Let's discover the tools which can eliminate these noises.
Part 2: 2023 Top 5 Software To Remove Buzz From Audio on Mac and Windows PC
1. KRISP Noise Cancelling Software
The perfect way to eliminate unwanted noise in your audio environment is Krisp Noise Cancelling Software. Krisp can help improve your listening experience by automatically detecting and filtering out background noise. It makes your audio experience more comfortable and relaxed whether you are trying to block out the sound of traffic outside your window or drowning out the sound of a noisy office. This software is also perfect for use in conjunction with other audio devices such as headphones or speakers. You will be able to enjoy your music or movie without worrying about the background noise with Krisp.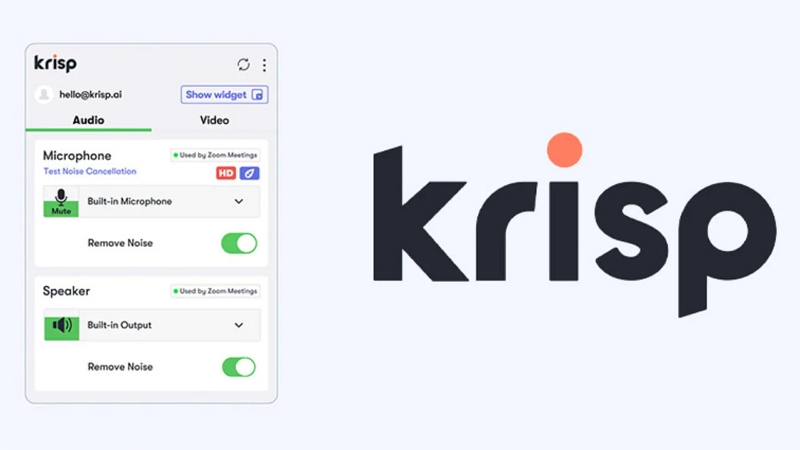 Key Features:
Provides noise cancellation option for calls.
Have the ability to remove noise from files completely.
Offers chrome extension to be used on Skype.
Supports 800+ communication and streaming apps.
Has an inbuilt audio recording.
2. Audacity
A free, open-source, cross-platform audio editing software, Audacity suits intermediate audio editors. Supporting 16-bit, 24-bit, and 32-bit, the Sample rates, and formats are converted using high-quality resampling and dithering in Audacity. Needless to say, it supports all audio file containers and has support for LADSPA, LV2, Nyquist, VST, and Audio Unit effect plug-ins. Nevertheless, unlike Eassiy, Audacity requires a learning path before you can employ it to its full potential.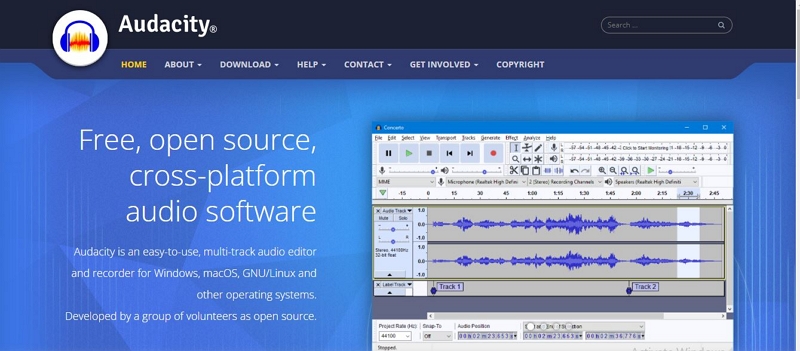 Key Features:
Audacity allows easy editing with Cut, Copy, Paste and Delete. There are also impressive features like unlimited sequential Undo (and Redo) in the session to go back.
Spectrogram view mode for visualizing and selecting frequencies
Change the pitch, tempo, speed, rate effortlessly with a single click.
Remove hisses, humming, buzz noises from the audio, or at least diminish them to the point where the subject is audible and clear is possible via Audacity.
3. Wavepad
A full-features audio and music editor for Windows and Mac, Wavepad includes anything and everything related to audio editing. The editing tools let you cut, copy, trim, split, and more, while the batch processing nature supports the editing of multiple files at once. Furthermore, the DirectX and Virtual Studio Technology DLL give access to thousands of additional tools and plug-ins if needed. And the Audio restoration features, including noise reduction and click pop lessening functions, are comprised within Wavepad. All these and the simple user interface make Wavepad one of the best audio editors in the market.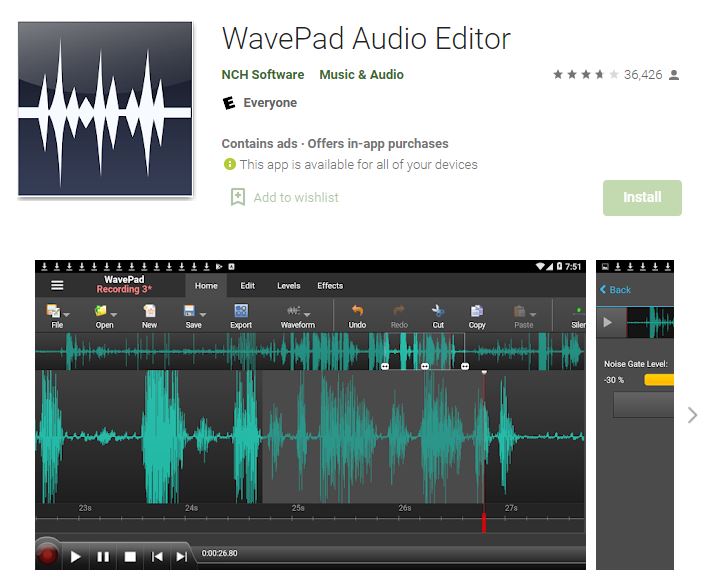 Key Features:
Supports more than 50+ file formats, including MP3, WAV, VOX, GSM, WMA, AU, AIF, FLAC, real audio, OGG, AAC, M4A, MID, AMR, and many more
Numerous effects like amplify, normalize, equalizer, envelope, reverb, echo, reverse, and more
Excellent technology when it comes to noise reduction and buzz removal
The simple interface will have you utilizing non-destructive audio editing in minutes.
4. Ashampoo Music Studio
The Eight powerful modules in Ashampoo Music Studio cover practically everything audiophiles need from their PCs. You can do the audio trimming the easy way with Ashampoo and get faster results with the customized keyboard shortcuts. Ashampoo allows you to do basic things like splitting up the audio into any number of parts, organizing the files with templates, and multiple detail modification. As you see, Ashampoo is more than your denoising software. Still, compared to Eassiy Audio Editor, it falls short in terms of usability.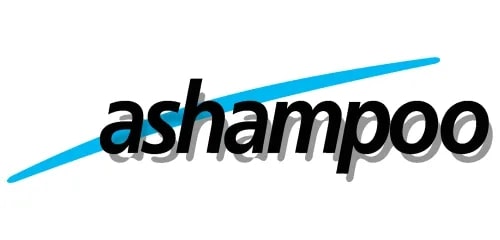 Key Features:
Enhanced music editor with optimized workflows
Live recording is supported in Ashampoo
The denoising technology is one of the finest in the realm
Cut, Mix, Trim, Split, and Merge audio files in the blink of an eye
5. Ocenaudio
A simple yet powerful audio editor is a real-time, cross-platform tool that works across all major operating systems like Windows, Mac, and Linux. You can view your audio in two ways, i.e., waveform as well as spectrogram view. So, in case you are one of those audio editors who like to manage every bit of the audio, Ocenaudio is the tool for you. But what's remarkable about Ocenaudio is it can edit even large files efficiently, like Eassiy Audio Editor. Still, compared to overall functions, Ocenaudio seems to be behind in development.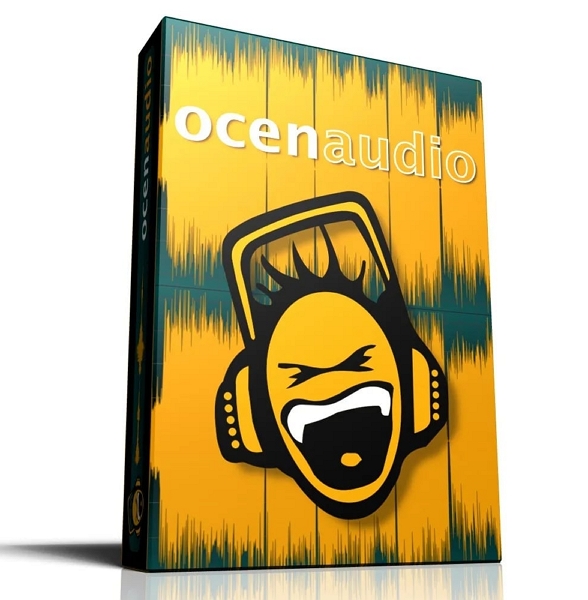 Key Features:
Multi-selection enabled for delicate audio operations, allowing you to perform several tweaks simultaneously
Real-time preview of the denoising operation, meaning you can hear the amount of buzz eliminated from the audio file
Fully featured spectrogram to analyze the spectral content of your audio signal with maximum clarity
Simple-to-use user interface and flexible options like customizing keyboard shortcuts
Conclusion
It is a difficult task to find the best noise remover. However, we have introduced the 2023 top software to remove buzz from the audio on Mac and Windows PC for you. To remove buzz from your audio file efficiently, you can use any of the five tools. While others charge you a monthly subscription plan, some of these programs are free.