WinCreator MP3 Cutter is one of the most recognized online platforms to cut, split, and convert audio files. But its functionality is limited only to cutting and converting the audio files. Moreover, its online existence is not liked by most users, given they like a tool that does not require an active internet connection to perform their audio operations.  And if you are one of those users who dislike WinCreator MP3 Cutter for whatever reason you have come to the right place. This guide provides you with a list of the best alternatives to WinCreator MP3 Cutter for Mac, Windows, iPhone, and Android.
Part 1: What Is The Best Wincreator MP3 Cutter Alternative In 2023? - Eassiy Audio Editor
Are you trying to find the best Wincreator MP3 Cutter alternative? Then you have visited the perfect place as here we are introducing you to the best Wincreator MP3 Cutter alternative named Eassiy Audio Editor. It is one of the best MP3 cutters that not only helps you to cut or trim MP3 files but also allows you to edit, compress, and convert them. With its audio cutting and trimming feature, you will be able to remove unwanted parts of your audio file effortlessly. Again, you can edit your audio files more professionally with the other features. This software supports audio conversion in batch so that you can avoid wasting your precious time. It can also help you in compressing audio files as much as you require. Besides audio-related functions, this powerful tool also supports video cropping, editing, converting, and compressing. It is well-known in the industry for its wide range of supported formats. You can download it from their official website on both MacOS and Windows.
Key Features:
Able to handle editing, merging, converting, compressing, etc. to almost all audio formats.
Allows you to convert audio to other formats with no quality loss issues.
Supports compressing both audio and video files as per needs.
ID3 tags of an audio file can be edited with this software.
Offers more than 1000+ video and audio formats such as MP4, MP3, WMV, WAV, AVI, etc.
Pros:
You can convert or compress audio files in batch to save time.
It's simple and easy-to-use interface helps you to convert audio to video with different pictures.
Able to synchronize both pictures and audio seamlessly.
Provides fast conversion speed compared to others.
Cons:
We still couldn't find any cons of this program as this audio/video editor is still new.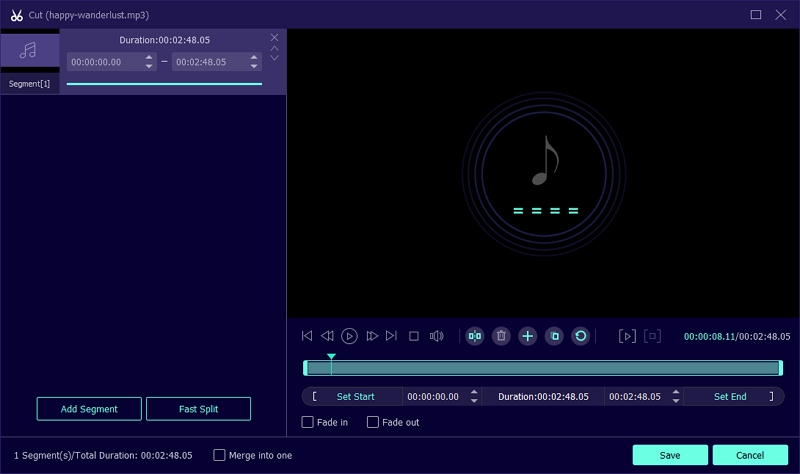 Part 2: Other Helpful Alternatives to Wincreator MP3 Cutter on Android and iPhone
Eassiy Audio Editor is the best application to cut, edit audio files, and there is no denying it. However, the application is limited to Mac and Windows users. In case you are an iPhone or Android user, you will have to look for its alternatives. And of course, the alternatives mentioned here come nowhere close to what Eassiy has to offer, but they will be adequate to be an alternative to WinCreator for editing and cutting MP3 audio files.
Scroll down to find the four best alternatives to Eassiy Audio Editor for Android and Windows users:
1. Wondershare FilmoraGo(iPhone)
A full-fledged multimedia editor, Wondershare FilmoraGo is a counterpart of Wondershare's Filmora (for PC and Mac users) to create your stories anywhere, anytime. Although made for small screen users, FilmoraGo incorporates all sophisticated video cum audio editing features with easy-to-use options. The majority of the prospects in the application have to do with video editing like adding transitions, texts, slo-mo, and more. But you will also find dedicated options for WinCreator MP3 audio files.
The application not only serves as an alternative to WinCreator MP3 Cutter but includes thousands-plus royalty-free effects. Using those, you can make the trimmed audio sound professional.
Pros:
A simple user interface that lets you utilize professional functions effortlessly and apply them to your audio files
Thousand plus readymade audio effects for all royalty-free to help you make your music just like you dreamt it
Directly export the audio files across social channels like Facebook, YouTube, Instagram, and more!
Cons:
The subscription price of Wondershare FilmoraGo is hefty, making it unaffordable for users on a budget.
As a sound-editing expert, you will find so many features of the application as unnecessary so it's a no-frills application for the audio editors.
Limited audio editing options compared to Eassiy Audio Editor.
2. Timbre(Android)
Deemed as the ultimate content editing tool for Android users, Timbre has all the audio editing features that a novice audio editor could ever need. At first glance, Timbre looks like just any other tool to cut, join, and convert audio and video files. However, it incorporated numerous other functions that an audio editor will need in their journey of becoming an expert in the audio editing realm. Needless to say, Timbre support all major audio file formats, including WinCreator MP3, WAV, FLAC, M4A, AAC, and WMA.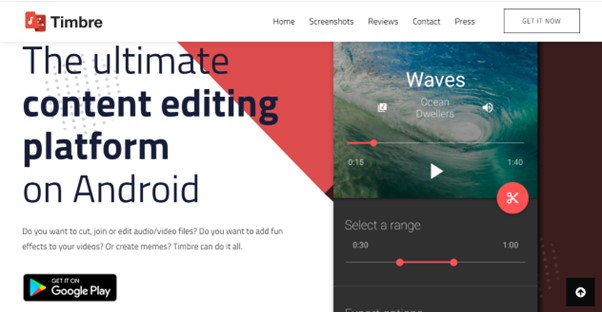 The Audio cutter lets you split audio files into two, whereas the Audio Merger allows you to join two music files into one. The BitRate Changer lets you quickly compress the audio files and pick the most suitable BitRate. Similarly, you will also find options to change the speed of the audio track and more!
Pros:
The application works on FFmpeg codecs, which is the industry standard for audio and video editors.
Supports all multimedia file containers, including mp3, wav, flac, m4a, aac, pcm, aiff, ogg, wma, alac, wv, mp4, avi, flv, mov, webm, mkv, and mpeg
The modern and intuitive interface makes it simple for tech-neophytes to utilize the application like a professional
Cons:
Trimming the audio files reduces the size (compressing it) automatically; thus, affecting the quality of the audio files.
Sometimes after editing the audio files, you will receive an error message asking you to restart the operation again.
Some users complain that the customer support is unresponsive — forcing them to switch to other applications even after paying the subscription price.
3. Audio Cutter (Android)
A simple application made particularly for the users looking to edit music and audio tracks in a convenient way, Audio Cutter supports all significant file containers, including MP3, WAV, ACC, WMA, FLAC, M4A, OPUS, AC3, AIFF, OGG. So, be it the MP3 or any other file format, you can rely on the tool to trim, split, and remove unwanted parts effortlessly. All in all, Audio Cutter is a simple tool with all the necessary options required by an average audio editor to edit their clips like a professional.
Pros:
The simple and manageable user interface allows users to utilize the application efficiently and employ all the functions to their benefit
Change the export quality, size of the audio files, and choose the file format before downloading it to your device.
There are options to adjust the critical parameters of the audio files, including Volume, Pitch, Speed, and Rate
Integrated MP3 player lets you listen to tracks during the editing process; thus, saving a lot of time from downloading and editing again
Cons:
The application fails to load tracks sometimes.
Processing time is slower.
4. Mp3 Cutter (iPhone)
Like the Audio Editor for Android users, MP3 Cutter is a simple application for iPhone users. The application has limited functionality when it comes to editing the audio files, but includes features to trim and split the MP3 tracks. The application also includes tools to merge the audio files, not only of the same format but from other file formats too. You can also choose to remove specific parts, i.e., multiple sections from a single track. And besides letting you trim, split, and merge, MP3 Cutter also includes options to edit the audio files, making it a suitable alternative to WinCreator MP3 Cutter for iPhone.
Pros:
User-friendly GUI
Trim and cut the MP3 audio to remove unwanted parts.
You can export the edited audio files to social media channels directly, like Facebook, Instagram, Twitter, YouTube, and more!
Cons:
Uploading songs could be frustrating songs, as the application fails to recognize tracks after scanning the library.
Suitable only for cutting the MP3 files.
Conclusion
These are the best alternatives to WinCreator MP3 cutters for Mac, Windows, iPhone, and Android users. The best of them, Eassiy Audio Editor functionality is limited only for Windows and Mac users. So, in case you do not like what the tool for Android and iPhone has to offer, it is best to choose Eassiy Audio Editor, given you have either a Mac or Windows device to download the application. As mentioned earlier, Eassiy Audio Editor is straightforward and includes both basic as well as advanced features required by an audio editor. Of course, if you are looking for Android or iPhone audio editor tools — then the second part of this guide will serve your request.